MISSION STATEMENT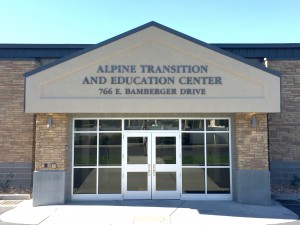 Alpine Transition and Education Center encompasses a supportive, educational environment designed to transition students to the adult world through the development of personal skills and abilities. Instruction and activities are designed to guide students towards independence and participation in the community.  Students will learn to navigate through life by working and socializing in the community as productive, contributing members of society.
PROGRAM DESCRIPTIONS
Alpine Transition and Education Center is designed to provide students a continuum of services tailored to meet individual needs. All programs focus on the four main areas of transition: Education and Training, Jobs, Personal Life, and Living on Your Own.
Life Skills: Students attending the Life Skills class are taught the skills to increase their independence in their home and community. The program focuses on teaching a variety of academic, social, and functional living skills related to the four transition areas. The curriculum and employment activities are customized according to each student's individual interests and needs.

Independent Living: The Independent Living program is designed to offer students a combination of classroom experience and exposure to a variety of work training sites in the community. Classroom instruction focuses on teaching the work skills and behavior necessary to obtain and maintain employment. ATEC has partnered with many local businesses to provide small-group training to students in the community. Under the direct supervision of a job coach, students work in small groups to generalize the classroom skills to real life situations.

Access: Students attending Access are ready to increase their ability to access the community with the fading support of ATEC staff and the increasing support of their peers and natural community supports. Student schedules are individualized based on their interests and work preferences. Working with the teacher, students will focus attention on developing IEP Goals, self-advocacy, academics, employable skills, social skills, and community access. With job coach support, the student will find a volunteer job in the community and will learn the needed skills to complete the job with the support of another peer. Job coach support will fade as the student increases their independence at the job site.

Outreach: The Outreach program is designed to provide education and support for students in their community instead of in the traditional classroom setting. Students have a modified education schedule tailored to the student's post-school goals, dreams, and wishes for their future. The program is designed to phase the student out of the traditional school-based schedule and into following a "life schedule" that will continue into adulthood. Students develop a person-centered plan and are taught to advocate for themselves by developing, writing, and leading their own IEP. Students must be able to be alone safely. If a student is not able to be alone safely, the student's family is responsible to arrange supervision for the student. All students attending the Outreach program must be employed or be willing to seek employment, volunteer work, or participate in an internship. Students will also learn to use public transportation to access school, the community, and their work placement.
SCHOOL RULES AND POLICIES
All students attending ATEC are required to adhere to the school rules and basic school policies:
No electronic use on campus (cell phone, gaming devices, etc.)
Stay in assigned areas.
Use awesome language
Follow directions (the first time they are given)
Keep hands and feet to themselves
DRESS AND GROOMING
All students are expected to dress appropriately and be well groomed each day. The following clothing items should not be worn:
Open toed shoes or sandals
Tank tops and shirts with spaghetti straps
Bare midriff, belly shirts, or low cut collared shirts
Short shorts or short skirts
Torn or ripped clothing
Display of undergarments
In addition, students will be expected to adhere to the clothing requirements specific to their job assignment. For example, if a student is volunteering at Chili's and the required dress is a black shirt and jeans, students will need to obtain a black shirt and a pair of jeans to change into when it is time for work.  Please talk with your assigned teacher to determine the work placement for your student and the clothing requirements.
CONSEQUENCES
ATEC operates on a positive reinforcement policy. Students may earn rewards specific to each teacher's reinforcement procedures. Students who choose not to meet expectations and follow classroom or school rules are subject to the following consequences:
Verbal warning
Change in seating
Loss of opportunities
Loss of desirable activity
One-on-one meeting with teacher
Change of work environment
Parent phone call
Meeting with the principal
Parents will be contacted in the cases of serious disruptive behavior or infraction. If the problem persists, consultation with the parents, student, teacher, and administrator will be necessary.
SCHOOL HOURS
ATEC follows the Alpine School District A/B Calendar. School hours are Monday, 8:00am to 1:00pm and Tuesday through Friday, 8:00am to 2:00pm.
ATTENDANCE AND TARDIES
Good attendance and punctuality are critical work skills needed to be successful in a community work placement. Students are expected to be to their assigned areas on time. Students are expected to call if they will be absent or tardy.
CHECK IN / CHECK OUT
Students leaving campus for purposes un-related to school or school activities, need to check out with the front office.  In addition, if a student arrives late to school, parents or a responsible adult need to physically accompany students to the front desk and check them in.
VISITORS
All visitors must check in at the front office and receive a visitor's badge. If parents have requested outside agencies to visit students during school hours, a permission form must be on file before visitors will be allowed into the classroom or worksite.
TRANSPORTATION
Students will be transported to various community locations depending on their classroom activities or job assignments. Transportation is provided by a combination of district bussing, ATEC vehicles, and public transportation (UTA). In emergency situation, ATEC staff may provide transportation in their own vehicle when no other transportation is available.
LUNCH
Students will need to bring a daily sack lunch. Microwaves are available, but students will not have access to refrigeration. Insulated lunch boxes are recommended to keep food at a safe temperature. On Tuesday and Thursday, students have an opportunity to purchase lunch for $3 from the student café. If you are interested in purchasing a punch pass, please contact the front desk.
MONEY MANAGEMENT
ATEC staff will provide students with training on how to make purchases, budget, and balance their money. However, the student will be responsible for how their money is spent and accounted for. ATEC programs and staff will not have student money in their possessions.
EVALUATION PROCEDURES OF STUDENT PROGRESS
Students will be formally evaluated on IEP goals and worksite skills once per quarter. Evaluations will be sent home with the students, mailed home, or sent to the referring school. No letter grades are given.
PARENT AND STUDENT COMMUNICATION
Parents are encouraged to be active participants in your student's education here at ATEC. Parents are welcome to contact ATEC with any questions or concerns about their students. Daily communication books are encouraged if your student is unable to communicate with you about classroom event and activities. In compliance with the American with Disabilities Act, students needing special accommodations may contact the teacher for alternative arrangements to fit individual needs.